All Heller Security Service security officers are required to undergo training before beginning security duties. Each module of the training course is run by an experienced training officer. Modules covered in the basic training program include :

Introduction to the Company

Legal Issues

Customer relations and customer care

General duties and responsibilities of security personnel

Patrolling-objectives, techniques, procedures

Access Control-objectives, techniques, procedures

Fire prevention

Health and safety at work

Laws relating to security personnel

Power of arrest

Use of force

Code of conduct and appearance

Report writing - documents, forms etc

Assignment Instructions

Facilities and use of equipment available for security personnel
To complete the training all prospective employees must pass the written examination at the end of the training.
Training does not end in the classroom and all personnel are given detailed on-site briefings by a supervisor who is familiar with the assignment. This briefing includes, but is not necessarily limited to :

applicable aspects of Assignment Instructions

rationale of the security function, geography of the site and areas of greatest priority

the operational requirements and the location and importance of the post assignment instructions

emergency procedures and fire fighting facilities and muster points

alarm systems and other equipment security personnel will be required to monitor or operate

reporting procedures and recording requirements

the facilities which are available to security personnel

key personalities and names to remember of building tenants

understanding the Health & Safety and Environment requirements of the site

use and monitoring of security systems
In many cases we also rely on our customer to assist in specialized site specific training to ensure complete familiarization with all requirements.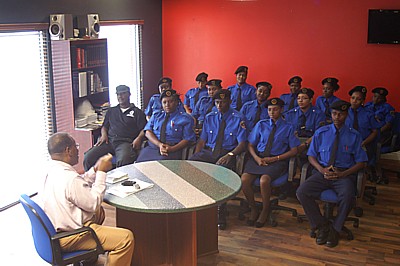 Firearm Training
Before any officer is issued with a firearm they must have sat and passed the precept examination, which is administered by the Trinidad and Tobago Police Service. After obtaining the precept, the officer then undergoes an intensive firearm training course. Upon successful completion, the Company then applies for a Firearm Userís Employees Certificate (FUEC), which authorises the officer to carry a licensed firearm.
Heller conducts on-going training for its FUEC officers to ensure correct procedures and usage are always foremost in the officerís mind. Each officer is scheduled for refresher firearm training every six months.
Driver Training
The Company selects drivers from among itís existing employees. Those employees who are selected to drive Company vehicles must first have a valid Trinidad and Tobago driverís license. These individuals are then given a practical driving examination, so that the Company is assured that the individual is a competent driver. In addition the driver must complete a defensive driving program.
Supervisor Training
Our supervisory staff also undergo development of skills in the following areas :
Leadership

Communication skills

Problem solving

Delegation

Team building

Staff motivation

Interpersonal skills

Time management / planning

Coaching

Discipline

Customer care and quality service