Heller Security Services provides long and short-term security guard services offering both armed and unarmed security guards in Trinidad and Tobago. Each service is tailor-made to each customer's need, be it a residence or a commercial establishment. The first step is an on-site assessment by an experienced Heller security professional. They will meet with you and undertake site assessments and a security needs analysis before proposing a security system which will complement and support your objectives.
We recognize that in Trinidad and Tobago, effective security is a Necessity and not a luxury. We are Dedicated towards our clients and accordingly we structure our packages to the needs of our individual clients, seeking to make our guarding services Affordable.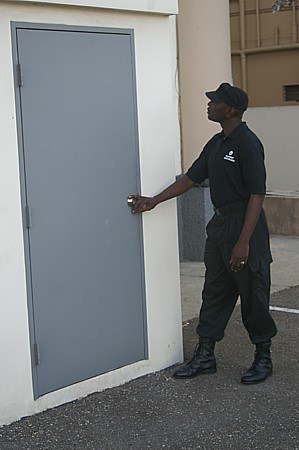 Our Static Security Officers act as a visible deterrent to anyone intent on stealing from or causing damage to your property and also minimize damage from risks such as fire and flood. Working across a range of private and commercial properties and events, our Static Officers are a visual and pro-active deterrent to intruders, vandals, trouble-makers and other emergency situations. We know that we are not only your the first line of defense, but also the show window to your premises. Accordingly we have a defined recruitment and training process.
Our Security Guards are equipped with mobile phones to contact emergency services and make regular check-in calls with our Duty Manager who also makes regular visits to Officers to ensure duties and responsibilities are being fulfilled. Our Static Officers are also supported by our Mobile Patrol Officers who provide immediate emergency 24/7 Armed Response backup.
At Heller we strive to deliver a Professional, Effective and Efficient Guarding service. We do regular Analysis of our clients' needs and the performance of our guards is analyzed regularly by management to improve our basic service delivery towards our clients.
Dog Handlers are also available as an alternative.
For customers who are having a Special Event our Static Security Guards can be a reassuring presence, whether helping control crowds and parking or simply checking tickets. You can trust in our team to keep trouble out and deal with a range of problems on your behalf.