In instances where a customer does not feel the need to employ a static security officer but wishes to maintain the security of their premises, they may request our mobile patrol service. Heller Security Services can provide a quality security patrol service which is tailor made to meet the needs of each of our valued clients. Our vehicle patrol service is a high visibility service providing detailed security visits to all types of premises throughout the day, night and weekends.
Our Patrol Services are especially used by villa owners in Tobago to look after their vacation homes when these villas are unoccupied and also to provide security patrols when there are guests.
Heller Security Services also provides Third Party Response for companies who have a Central Monitoring Station but do not have a response capability of armed security officers and vehicles to investigate the cause of their customer's alarm signals. Our third party response service is especially beneficial to Tobago customers as it widens their range of Monitoring providers.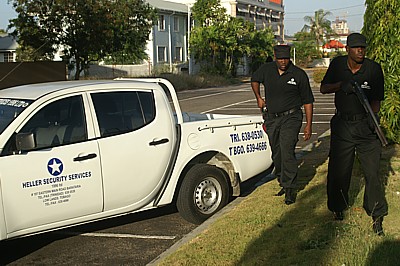 All response teams are crewed by experienced uniformed security officers. Staff assigned to the response service have been drawn from within our guarding division, thus the security officers would have gained the necessary experience in all areas of security. The vehicles used, carry our distinctive logo and are radio equipped, thus providing easy communication with both the Monitoring Station plus our regional Control Rooms.
The principal focus of our Response Team is to respond, as soon as possible, to the Customer's Alarm Signal received by the Central Monitoring Station, on arrival at the Customer's location, to check the property for intrusion and confirm with the Customer that all is safe and well. In the event of intruders being found on the Customer's property, the Response Crew will duly arrest them and hand them over to the Police for questioning.
Our Patrol Teams also provide 24 hour emergency back-up to our static security officers.